Abbeywood Cat Hospital Newsletter
Introduction
The veterinarians and staff at Abbeywood Cat Hospital are pleased to provide you with an online newsletter of pet-related articles and news stories.
This fun and fact-filled newsletter is updated on a regular basis.
Included in the newsletter are articles pertaining to pet care, information on our animal hospital, as well as news on the latest trends and discoveries in veterinary medicine. Get started by browsing the Current Newsletter Topics links that pertain to each article.
Please enjoy the newsletter!
A Salty Danger: Keeping Your Pet Safe this Winter
With the winter approaching, pet owners should be aware of the dangers posed by rock salt, also known as "ice melt." Used to combat slippery sidewalks, steps and walkways, rock salt contains a mixture of many minerals which pose unique problems for pets – who, unlike us, walk around bare-pawed all winter.
Pet Paws & Stomachs At Risk
Walking on rock salt-laden ground can lead to local irritation of your pet's feet. Paws feature mucus membranes which are sensitive to the harsh, drying minerals found in rock salt. Prolonged exposure can lead to cracked paw-skin and, once the sensitive underlying tissue becomes exposed, can be quite painful for your pooch or kitty.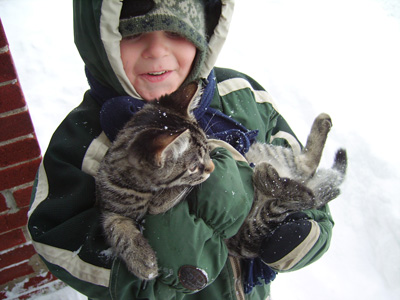 Your pet may want to cleanse his or her feet of the troublesome, yet tasty, substance by engaging in some extensive licking once back indoors. Ingesting the salt in this way, or from treated snow or melted puddles, can cause drooling, painful sores or swelling inside the mouth and oral discomfort. It can also lead to upset stomach, nausea and vomiting. The ASPCA Poison Control Center reports vomiting followed by diarrhea as the most common symptoms of rock salt ingestion in 30 percent of related calls.
However, if your pet decides to eat a buffet of rock salt cubes, this could be toxic and cause lethargy, tremors, disorientation, increased water consumption and seizures. In extreme cases, excessive ingestion can be fatal.
Tips for Cold-Climate Pet Owners
• Keep bags/containers of rock salt out of reach
• Don't over-salt areas where your pet routinely walks
• Kitty litter works as a safe substitute
• Keep your pet from overeating salty snow or drinking from puddles
• Rinse then towel off your pet's paws after walks
• Monitor paws for excessive dryness, cracking or irritation
• Vaseline can be used as a salt barrier when applied to your pet's paws
• Consider pet booties!
If you suspect your dog or cat has ingested a fair amount of rock salt, call your veterinarian or a Pet Poison Helpline (such as ASPCA's 888-426-4435) immediately.
New Year's Resolution: Ending Pet Obesity
Should old acquaintance be forgot... Hanging onto the friends and memories of the year past isn't a bad thing, but hanging on to old troubles may be. Pet obesity is still believed to be on the rise in the U.S. as 2016 comes to an end. It seems well-intentioned pet owners can't kick the habit of viewing their chubby pets as adorable rather than at-risk for serious health issues.
A Troubling Trend
An American Animal Hospital Association task force found that for 2014 obesity rates for both dogs and cats had risen from the previous year. They now estimate 16.7 percent of dogs and 27.4 percent of cats are clinically obese. In all, the Association of Pet Obesity Prevention (APOP) estimates 53 percent of dogs and 58 percent of cats are overweight.
Although those numbers don't speak for 2015, it seems the weight problem has not been resolved.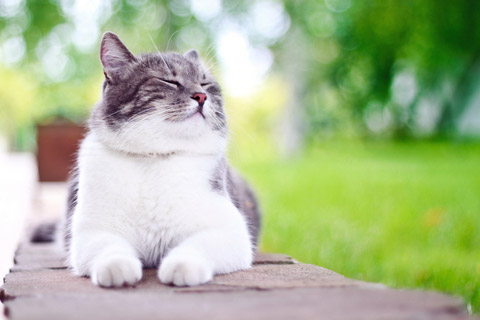 "The 'fat gap' continues to challenge pet owners," said APOP founder Dr. Ernie Ward. "Pet owners think their obese dog or cat is a normal weight, making confronting obesity difficult. No one wants to think their pet is overweight, and overcoming denial is our first battle."
Even with waistlines, diets, and exercise regimens a central focus for a variety of American industries, the obesity rate for humans increased 3 percent from 2011-2012 to 2013-2014. It makes sense that pets' nutritional needs aren't being met when 40 percent of the population is overweight.
With Excess Weight Comes Health Risks
With an increasing trend toward pets being obese rather than just overweight, specialists are concerned. Obesity brings with it a higher risk for Type 2 diabetes, osteoarthritis, high blood pressure and even certain forms of cancer.
"It is critical pet owners understand an overweight dog or cat is not a healthy pet," said Dr. Julie Churchill, a veterinary nutritionist at the University of Minnesota College of Veterinary Medicine.
For recommendations on proper nutrition, serving size and exercise requirements, contact your veterinarian.
Advantages Of Spays and Neuters
Spaying or neutering pets is a common procedure, and most pet owners have probably had some experience with having the procedure done on animals they have owned.
Aside from the inconvenience of heat cycles and/or roaming tom cats, there are medical benefits associated to having your pet spayed or neutered. The direct health benefits of spaying or neutering are significant for the pet. If female pets are spayed before their first heat cycle, the risk of developing mammary tumors (breast cancer) is significantly reduced. Spaying female pets eliminates the risk of pyometra, an infection of the uterus. This disease can be very serious, even fatal, in female pets. Male pets can also benefit. Neutering eliminates the risk of testicular cancer and reduces the risk of prostate disease.
Spaying or neutering can indirectly help prolong a pet's life as well. When pets are spayed or neutered, their tendencies to roam or fight are greatly reduced. This prevents the pets from getting lost, stolen, hit by cars, or contracting a contagious disease.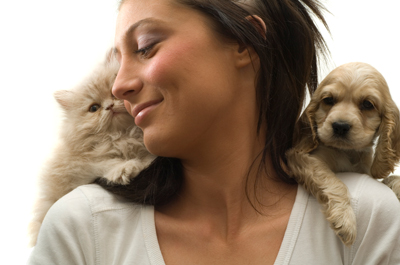 Cats that fight are at risk of contracting a serious disease called feline leukemia. This disease, which affects the immune system of the cat, can be passed from feline to feline through saliva or blood. Cats also run the risk of contracting feline immune deficiency virus when they fight. This disease is very similar to human HIV. It can lie dormant in the cat for quite a while, and when activated, can cause the cat's immune system to function improperly.
Spaying or neutering dogs can help keep them under control. Dogs that have not been spayed or neutered are more likely to wander away from home. While running loose, they have a chance of being hit by a car, getting lost, stolen or taken to the animal shelter.
Even though spays and neuters are considered routine surgery, there is nothing routine about any abdominal surgery performed under general anesthesia. Most veterinarians consider spays and neuters to be major surgery, especially when spaying older animals that have had several heat cycles or have had litters.
Veterinarians and humane societies advise pet owners to have their pets spayed or neutered. The medical advantages have been proven. Complications resulting from these procedures are rare and pets recover from surgery very quickly. Often the day after surgery, animals are bright and alert, sometimes seeming as if nothing had ever happened.
The cost of the procedure varies depending upon the species, sex, size and age of the pet.
A Safe Home for Your Cat
Since many of us believe that a house is not a home without a cat, we need to ask ourselves if our home is a safe place for them. If you have children, many of the safety measures needed for cats are probably already in place. If not, then it is necessary to look around the house and fix potential hazards.
Even cats that spend most of their time indoors may be exposed to a number of potential hazards. Disinfectants, drain cleaners and detergents are among the many household chemicals that are toxic to your pet. They should be stored in tightly closed containers and secured cabinets where pets are unable to reach them. Medicines should also be out of reach as common painkillers such as Advil and antidepressants are poisonous to cats.
Sharp objects such as knives and forks, carpet tacks and pins should be kept out of reach. Children's toys and small objects may attract a playful kitty and become lodged in its mouth or swallowed. Although kittens are sometimes pictured with a ball of yarn, a playful kitten and yarn are a bad combination. If ingested, yarn as well as any kind of thread, twine or ribbon could cause serious damage to the esophagus and intestinal tract of your cat.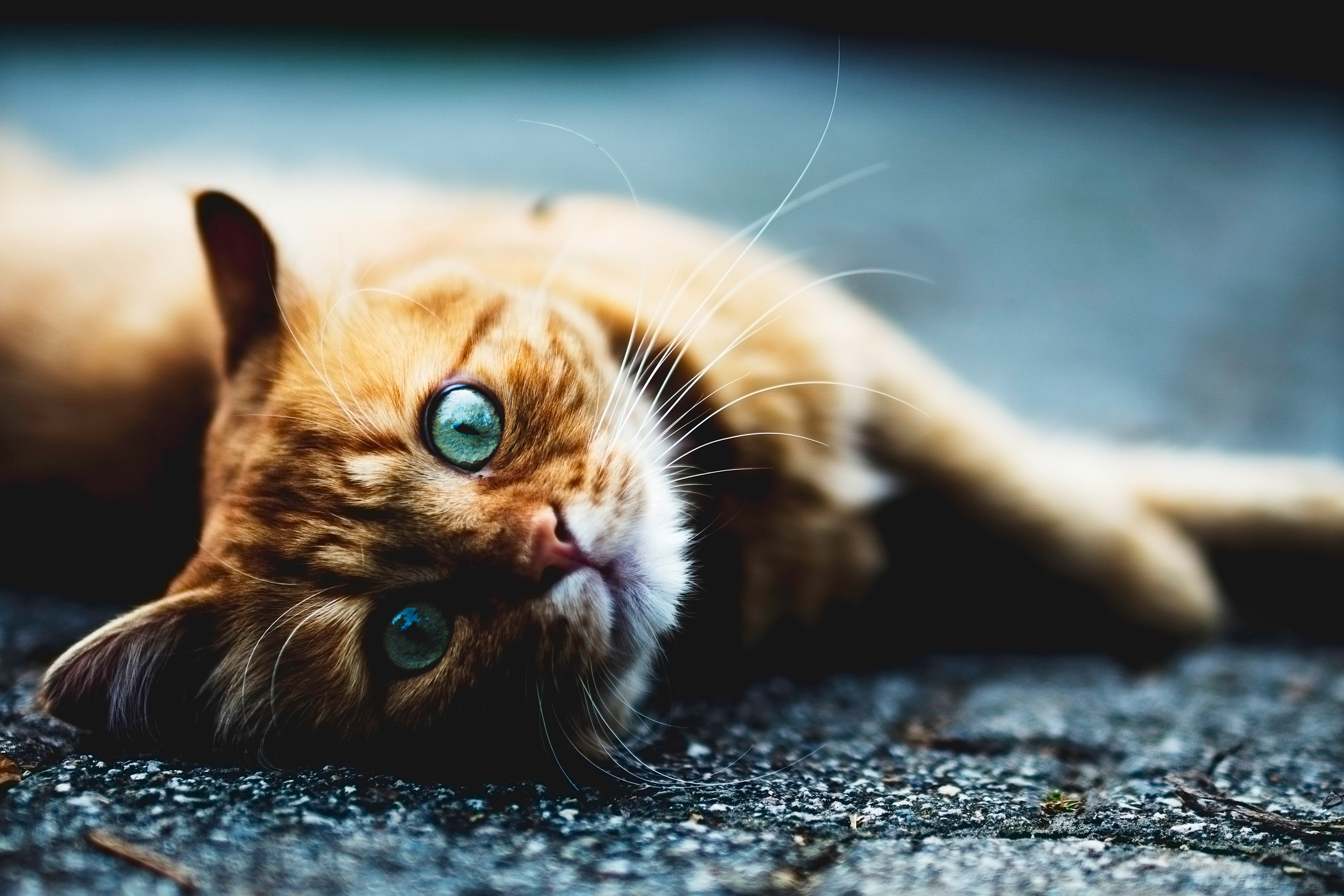 According to the National Safety Council, as many as 5,000 house fires a year can be attributed to pets as a result of their chewing of electrical cords. In order to prevent this hazard, do your best to keep electrical wiring out of your cat's sight and reach. Exposed lamp cords and other wires should be kept as short as possible. If extension cords are used, tack them against a baseboard or run them under a carpet so they cannot be played with or chewed.
If you live in an apartment, your cat may be vulnerable to "high-rise syndrome." If your window screens are not securely fastened, a cat may fall from a window and suffer serious injuries, if not death. A cat should be sufficiently restrained or confined if allowed on an apartment balcony.
According to the Center for Disease Control, 74 percent of homes in the United States built prior to 1980 contain hazardous amounts of lead paint. As with humans, any item containing lead can be extremely harmful to a cat. Harmful effects may not show up until weeks after ingestion. Signs of lead poisoning include vomiting, diarrhea or constipation, loss of appetite, loss of muscle coordination, blindness and seizures. Consult your veterinarian immediately if you think there is a possibility of lead poisoning.
In addition to indoor dangers, outdoor hazards are often found in the garage or shed. Harmful products include windshield cleaners, weed killers, insecticides, used motor oil and antifreeze. Many cats are attracted to the sweet taste of antifreeze (believe it or not!) containing the chemical ethylene glycol which is highly toxic to cats. If it is spilled on the ground or leaking from your car, it can combine with a puddle making it exceptionally easy for your cat to drink it. New antifreeze products have been introduced that claim to be non-toxic to pets, but it's always better to be safe than sorry. Be sure to clean up spills of any questionable liquid to avoid injuring your kitty.
Wherever the hazard may come, it is important to remember that your cat is not so different from a child. Curious paws and noses may inevitably discover areas that have yet to be "kitty-proofed." Once you get to know the likes and dislikes of your cat, it would be much easier to determine what is hazardous and what has not made your cat's priority list of noteworthy attractions.
10 Fun Facts About Cats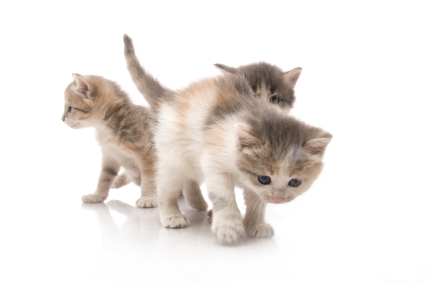 Ten Fun Facts About Cats
Cats "paw" or "knead" to mark their territory. Cats sweat through the bottom of their paws and rub off the sweat as a marking mechanism.
Cat urine glows in the dark when a black light shines on it. If you think your cat or kitten has had an accident in your home, use a black light to find the mishap.
If your cat is near you, and her tail is quivering, this is the greatest expression of love your cat can give you, but if your cat is thrashing its tail, she is in a bad mood, so keep your distance!
During her productive life, one female cat could have more than 100 kittens. A single pair of cats and their kittens can produce as many as 420,000 kittens in just seven years.
Sir Isaac Newton invented the cat door.
Cats spend 30 percent of their waking hours grooming themselves.
Ancient Egyptians shaved their eyebrows in mourning when their cats died. And if someone killed a cat, he or she could get the death penalty.
According to the Guinness Book of World records, the oldest cat was Crème Puff from Austin, Texas who died in 2005 at 38 years old.
When cats are happy, they may squeeze their eyes shut.
The reason for the lack of mouse-flavored cat food is due to the fact that the cat test subjects did not like it.
Cat's Out of the Bag: Ten Toys Under $25 That Your Cat Will Love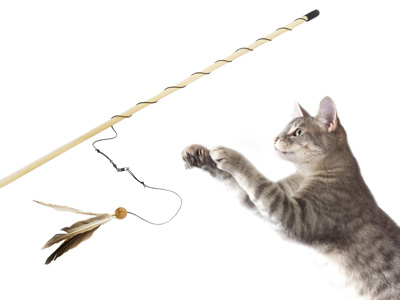 Play and exercise are an important part of pet health. For cats, toys are a great way to stimulate play, combat obesity, discourage unwanted behavior and provide an outlet for unused energy and predatory instincts. Below are ten highly-rated toys that at under $25—most under $10—will help keep your cat happy and healthy and won't break the bank.
Da Bird Feather Teaser, online from $7.49. This teaser simulates the motion of a bird at your control. A flick of the wrist and the brightly colored feathers dance and spin enticing your cat to play. Encourages instinctual behaviors and exercise to keep your cat healthy and alert.
Mylar Crinkle Ball Cat Toys, online from $1.49, an inexpensive, sure-fire hit that your cat will love to bat and bobble around the house.
Yeowww! Catnip Banana, online price from $4.13. These popular stuffed bananas are made in the USA and filled with organically grown catnip.
Fat Cat Kitty Hoots Big Mama's Scratchy Box, online from $8.37. An effective, economical way to satisfy your cat's desire to scratch and save your furniture. Comes with a supply of "Zoom Around the Room Organic Catnip." The box is 100 percent recyclable. May need to be replaced every 1-2 months, depending on usage.
PetSafe SlimCat, online from $4.69. PetSafe Slimcat is an interactive feeding ball that works by distributing your cat's food into smaller meals that can be fed at regular intervals. Slimcat can also satiate your cat's craving to hunt which results in a more peaceful pet.

Petlinks System Dream Curl Curvy Two-Surface Scratcher online from $20.99. Your cat will love the shapely contours of the Dream Curl and its enticing variety of scratching surfaces and angles. Made from Earth-friendly sisal and contains organic catnip. The scratcher core is made from recycled material.
Tipsy Nip Ball, online from $5. This organic catnip infused non-toxic wooden ball is sure to be a hit with your cat. When not in use, store in the accompanying bottle of catnip to keep the ball catnipalicious.

Cat Amazing Interactive Puzzle for Cats, from $14.95. This interactive puzzle game has three levels of difficulty to stimulate and challenge cats, and those who complete the puzzle are rewarded with a treat. It is the perfect test of your cat's skill and ingenuity and is an instant hit wherever people and cats are gathered. Made from 30 percent recycled cardboard and is 100 percent recyclable, and printed with certified metal-free inks.
The Cat Dancer, available online from $1.79. The Cat Dancer is the original interactive cat toy. Spring steel wire and rolled cardboard create an irresistible lure for cats and great fun for cat lovers. According to their website, The Cat Dancer has been "home-tested by over 8 million cats."
Teddy for Kitty, $5.95, available online through EcoChoices Natural Living Store, is a teddy bear made from rugged corduroy and a colorful patch and filled with organically grown catnip. Made in the USA.
Don't forget: Homemade cat toys can be just as entertaining as those that are store-bought. Cats love batting around a crumpled ball of paper, hiding in a large paper bag or cardboard box or attacking an object, such as a feather, bell or stocking stuffed with catnip, attached to a string or pole. Best of all, you probably have most or all of these items in your home already.